If you have any information about these crimes or any person(s) involved, you are urged to call Crime Stoppers at or submit a Web Tip . You do not have to give your name. CRIME STOPPERS will pay a cash reward of up to $3000 and you can remain anonymous.
WANTED by PSL PD (2017/03/29)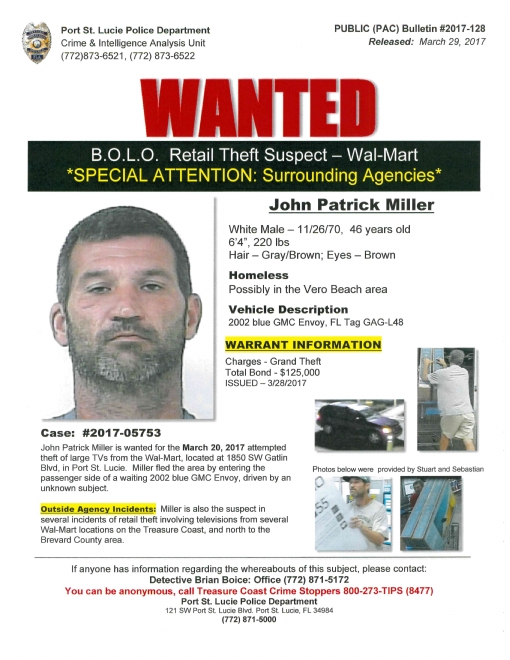 ---
REQUESTING INFORMATION ON OFFICER DEATH (2017/02/20)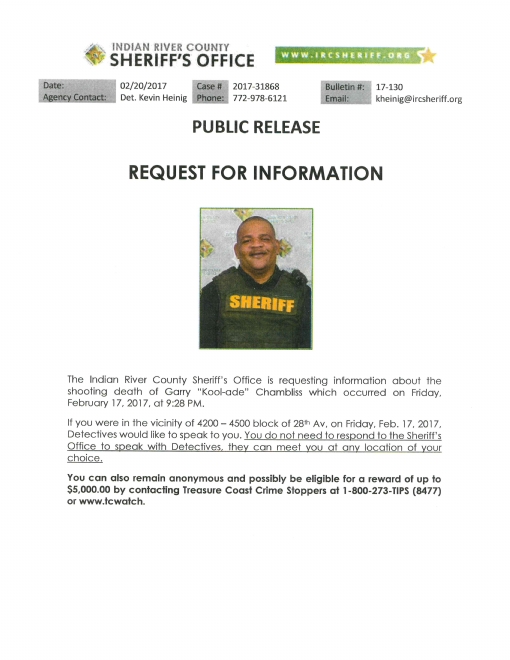 ---
CREDIT CARD FRAUD SUSPECT (2017/02/14)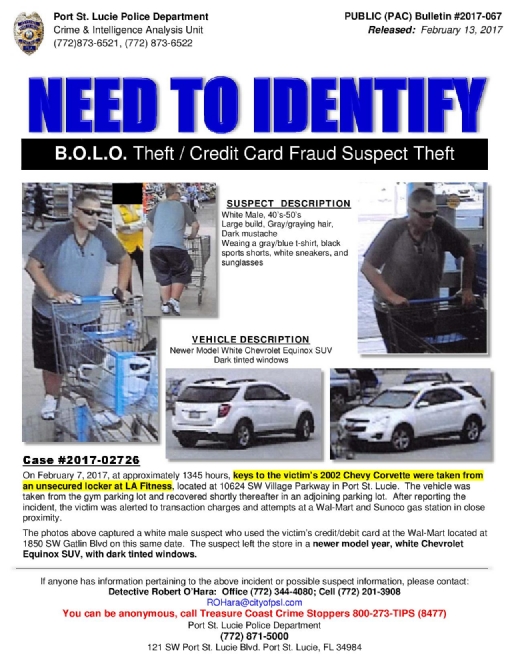 ---
WANTED SECOND DEGREE MURDER (2017/02/10)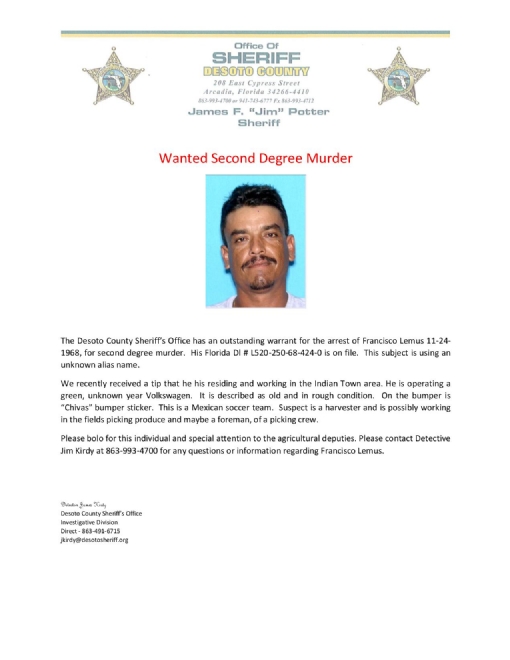 ---
ATTEMPT TO IDENTIFY (2017/02/02)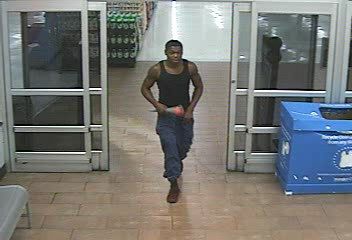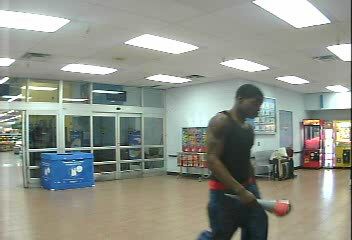 On January 19, 2017 between the hours of 1:00 am and 7:00 am, a 2014 Dark gray Chrysler 300 was stolen from the 38000 block of

NW 35 Avenue, Okeechobee, Florida

. The suspect shown in these pictures was in the stolen vehicle and seen leaving Wal-Mart as depicted in these pictures. The vehicle has been located.
If you have any information as to the identity of this suspect or other information about this case, contact Detective Sgt. Jimmy Mills, (863)763-3117, ext. 5116. Case #17S01349.
No further information to release at this time.
Michele Bell, PIO
---
MISSING PERSON/ RUNAWAY (2017/01/30)
NAME: MARQUAVIUS TYRECE WILLIAMS
DOB: 04/05/2002 RACE/SEX: B/M5'0" – 5'4"; 100-115 LBS.;
HAIR: BLACK (SOMETIMES WEARS WHITE BANDANA OVER HEAD); EYES: UNKNOWN
LAST SEEN WEARING: UNKNOWN SHIRT, BROWN PANTS, RED TENNIS SHOES
LAST SEEN: WEDNESDAY, JANUARY 25 BOARDING SCHOOL BUS AT HIGH SCHOOL
CONTACT DETECTIVE CARI ARNOLD WITH ANY INFORMATION, (863)763-3117 EXT. 5111
REFERENCE CASE #17S02039
MICHELE BELL, PIO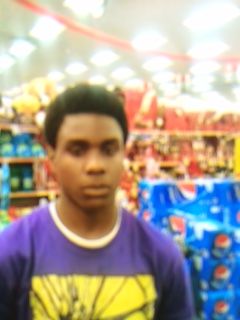 MAY BE IN THE COMPANY OF MISSING/RUNAWAY DERRICK PINDER
(OKEECHOBEE CITY POLICE DEPARTMENT CASE)
---
ASSAULT/BATTERY- ROAD RAGE INCIDENT (2017/01/20)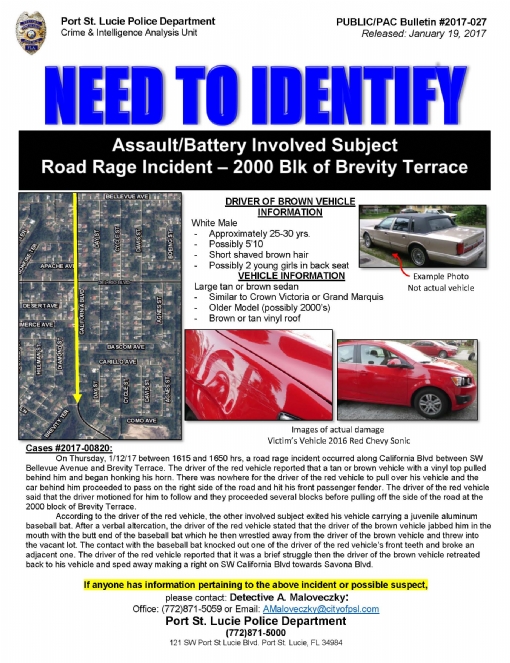 ---
BUSINESS BURGLARY SUSPECT (2017/01/06)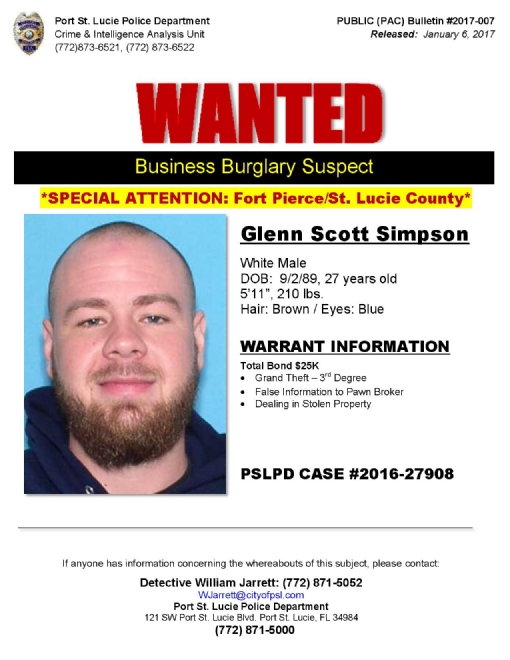 ---
NEED TO IDENTIFY (2016/12/13)
---
VANDALISM SUSPECT (2016/11/21)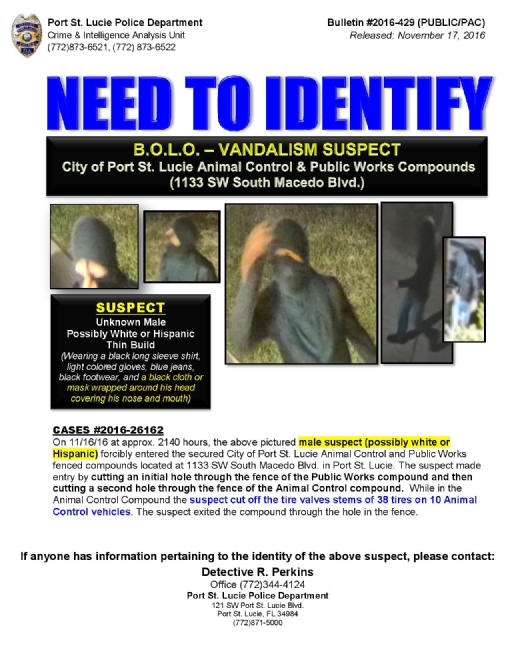 ---
CELLULAR THEFT AT PUBLIX (2016/11/18)
---
CELLULAR THEFT PUBLIX (2016/11/01)